Web of Science
Trust the difference

Emerging Sources Citation Index (ESCI) Backfile!
Deepen and broaden your current Web of Science coverage—discover even more from emerging sources across the globe.

For the first time anywhere—available for one-time purchase!
Easy access to newly available backfile!
10 Years (2005-2014)
5,640+ journals
Over 1.4 Million Records
Authors from over 200 countries/regions
54% of records are new social sciences and arts & humanities content!
Connects to over 1.4 billion searchable citations across the Web of Science
One-time purchase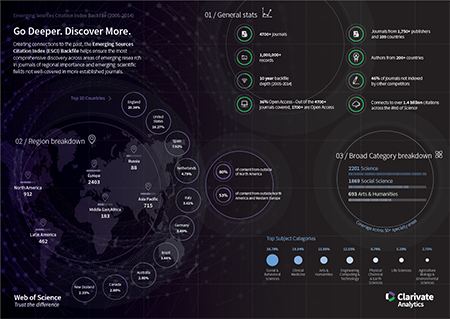 "ESCI has a positive effect on research assessment and it accelerates communication in the scientific community"
Early Insight on the ESCI: an overlay map-based bibliometric study
Scientometrics, 18 March 2017
The Emerging Sources Citation Index Backfile expands your current Web of Science coverage—
creating new connections to the past, for the most comprehensive discovery across areas of research in journals of regional importance, not found in more established journals.


The ESCI Backfile (2005—2014):
Diverse curation for deeper regional and specialty area coverage:

Journals from nearly 2,200 publishers and 100 countries
Authors from over 200 countries/regions
Over 50 specialty areas
46% of journals not indexed by other competitors*
80% of content from outside of North America
53% of content from outside North America and Western Europe
35% OPEN ACCESS—1,980+ open access journals, providing easy access to full text

Connects to over 1.4 billion searchable citations across the Web of Science
Enables expanded research assessment and benchmarking
Comprehensive search and discovery of new areas of research
Better understanding of the evolution of emerging fields and global trends
Identify new collaboration opportunities in emerging research areas
About the ESCI
Emerging Sources Citation Index provides Web of Science Core Collection users with expanded options to discover new areas of research in evolving disciplines, as well as relevant interdisciplinary scholarly content across rapidly changing research fields.

All journals in the ESCI have been rigorously hand-selected and reviewed by our editorial team as important titles to key opinion leaders, funders, and evaluators worldwide. The list is continuously evaluated and evolving, with new titles being added regularly. These titles are also being evaluated on a continual basis for inclusion in the SCIE, SSCI, and AHCI.

The Web of Science is the most accurate and comprehensive resource for research discovery and evaluation, and our independent and unbiased journal selection ensures the highest quality indexing. The ESCI makes our rigorous selection criteria more transparent by exposing new content earlier in the selection process—helping everyone to make more connections to new research in emerging scientific fields, and discover new journal content of regional importance.