Cortellis
Lorem ipsum dolor sit amet

Cortellis Competitive Intelligence
The winner really
does take it all
Cortellis Competitive intelligence keeps you informed on competitors' earliest moves and strategy: helping you develop your drug pipeline.
During the second quarter of 2016, Cortellis Competitive Intelligence had 1014 new deals added as part of its ongoing coverage of pharmaceutical licensing activity.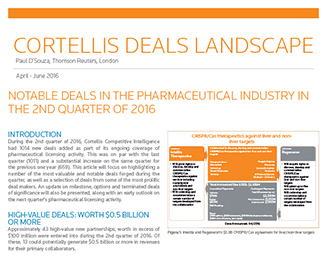 Download this whitepaper to review some of the most valuable and notable deals from Q2 2016.
Accelerate strategic decisions by getting the exact information you're looking for the first time.
From one source, see your chosen indications, actions, and companies in detail–and in context.
Access accurate and timely global information on over 61,000 drugs, 6,000,000 patents, and 44,000 deals from big pharma to biotech companies. Plus: breaking industry news, clinical trials, broker research and conference coverage.
Trusted by more than 28,000 users worldwide, Cortellis™ Competitive Intelligence allows you to keep a constant watch on competitors in your space, summarize the product pipelines in your area of research, monitor new patent filing, and assess the attractiveness of the companies you are interested in.
Features & Benefits
Cortellis Competitive Intelligence is your trusted source to discover new and emerging research before any of your competitors
Manually curated by over 500 chemists, biologists and other editors with a medical background and a minimum of 4-7 years relevant experience
All of our data is integrated on one single platform. With one search, you can find all the data you need organized, indexed, and exportable to multiple formats
Best in class web portal provides filtering options for enhanced searches and robust alerting and exporting features while leveraging standardized ontology
If you'd like a free demo of our Cortellis Competitive Intelligence solution, please complete the form on the right.bottom.